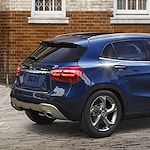 Driving a luxury SUV means you get plenty of premium interior and exterior features. Yet, it does not mean you have to sacrifice performance. At Autobahn USA Dedham, we understand that there is more to a vehicle than comfort and good looks. We know you want an SUV that can perform, and the 2021 Mercedes-Benz GLA 250 is a luxury compact SUV that will perform to your expectation.
The Mercedes-Benz GLA 250 has a standard 2.0L inline-4 turbo 221-horsepower engine with 258 lbs.-ft. of torque. This engine generates a lot of power while using less fuel, and the 8-speed dual-clutch automatic transmission gives the GLA 250 the sporty response of a manual transmission.
The GLA 250 has a standard front-wheel-drive system, and an all-wheel-drive system is available. The Electronic Stability Program gives you a smooth drive, even on rough stretches of road in Dedham. The Electronic Traction System gives your tires extra grip when you are accelerating.