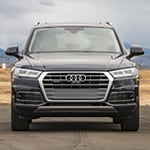 There is nothing that says you can't be comfortable in an SUV and have it be powerful at the same time. This is exactly what you will get with the Audi Q5. The engine and transmission on this SUV are spectacular and will have you turning more than a few hears as you soar down the streets of Dedham.
The 2.0-liter engine that powers the Audi Q5 is turbocharged and fully capable of taking you from 0-60 mph in only 5.7 seconds. At that point, you will have 273 lb/ft of torque going through the engine. This will definitely make you feel good.
The Audi Q5 is also efficient given its all-wheel drive system powered by Quattro technology. There will be times when you need all of the torque going to certain parts of the vehicle, and the Q5 will deliver for you each and every time.